Solo firmware 1.3 adds full GoPro control but does not yet include PAL
This week 3DR released the iOS and Android apps to take advantage of the last Solo Arducopter release which finally allows control of the GoPro in flight to change settings such as shutter speed.  This release only offers NTSC settings with PAL settings to come in a future update, hopefully fairly soon.
Recent firmware releases have seen improvements to the GPS, the video transmission range, to the gimbal and to the handling in flight.
We haven't used the latest firmware long enough to say for sure, but the Solo feels smoother in flight and the video looks more locked in as a result, we've not yet seen any micro-vibrations.  Especially in high winds it was possible previously to see a subtle vibration in video and although this is easily dealt with in post it would be better not to have to.
The GoPro settings offered for this release are:
Video Resolution: Choose from a number of resolution options, including 4K, 2.7k, and 1080p
Photo Resolution: Shoot up to 12 MP stills, with the option to select different resolutions. Different resolutions produce different detail and different file sizes: higher resolution gets you higher detail, but generally bigger file sizes.
Auto Low-Light Mode: Your GoPro will automatically change ISO to account for lower light shooting scenarios.
Protune on/off: Toggle GoPro's protune feature.
Video Frame-rate: Adjust how many frames your GoPro captures per second. Useful because different frame rates give your video different feels: 24fps or 30fps are what you're used to seeing on film; 60fps is good for action; and 120fps allows you to transform your footage into slow-mo.
Video Field of View: Choose between a wide, medium or narrow frame
The improvements on the Solo itself are:
Improved the tracking performance and smoothness of the Follow Smart Shot
Smart Return Home: Solo won't climb as high to return if it's close to home. Solo will always climb a minimum of 2.5m.
Tuned vehicle flight performance for smoother footage
Solo will not enter Return Home due to battery failsafe if it is already in Land mode
Sharper white LEDs
New sound when Solo powers off
Refined stick control
Reduced haptic feedback on the controller
More clear alert for low controller battery
Solo can now take pictures through the Tower app – useful for taking pictures in certain locations for mapping applications
The failsafe operation of the Solo has been improved to prevent a Return to Home occurring whilst already landing, which is described in detail here:
https://3drobotics.com/kb/return-to-home/
3DR has announced that future firmware will integrate with Airmap to provide information on flight restrictions and prohibited airspace, it is believed this will be informational only and will not disable flight as there are cases (for example approved commercial operators) where there would be legitimate reason to fly in airspace close to an airport.
The Airmap service only supports US airspace at this time and does not recognise UK addresses.  For example, Leeds, which once had a respected football team cannot be found on Airmap.  We're told future versions will work internationally.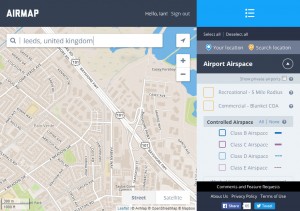 You can read more about 3DR's partnership with Airmap here:
https://3drobotics.com/3dr-collaborates-with-airmap-to-integrate-flight-safety-zone-software-into-the-solo-app/