DJI unveils the X5 and X5R Micro Four Thirds camera gimbal
DJI today revealed the X5 and X5R, their first Micro Four Thirds (MFT) camera gimbals, the specifications are very impressive indeed, DJI in releasing these cameras has almost certainly killed off much of the need for expensive big rigs to carry the likes of the Panasonic GH4.
In another surprise move, the gimbal doesn't only support a single prime lens but 3 in total.
Olympus M.ZUIKO DIGITAL ED 12mm f2.0 [FOV 84°]
Full Frame 24mm equivalent.
DJI MFT 14mm f1.7 15mm [FOV 72°]
Full Frame 30mm equivalent.
Panasonic Lumix 15mm G Leica DG Summilux f1.7 ASPH [FOV 72°]
Full Frame 30mm equivalent.
Whilst the quality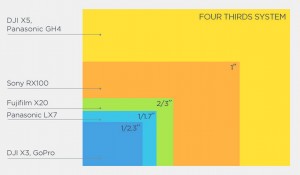 of the optics on the DJI camera is unknown, the Olympus and the Panasonic are both great pieces of glass.
All the primes are relatively fast making them ideal for low light shooting, the MFT sensor being 8x bigger than that in the GoPro and Zenmuse X3 also allows for improved performance and depth of field to become a creative choice.
Game changer, is a term in technology used all too often, but it's appropriate here, especially considering the inclusion of a follow-focus as an optional extra, for professionals they can really take their photographic artistry to the skies.
There's one technical limitation for the X5, which takes the shine off its specifications and that's the 60MB/s bitrate, the same as the X3 and GoPro, it's simply not enough data for 4K to really look great.
The summary of feature of both cameras is as follows:
ZENMUSE X5
4K video at up to 30fps
Record at 4096×2160 (24fps) or 3840×2160 (30/25fps)
16MP photographs
12.8 stops of dynamic range
ZENMUSE X5R
Lossless cinema 4K RAW video
Record at 4096×2160 (24fps) or 3840×2160 (30/25fps)
Average 1.7 Gbps bitrate (2.4Gbps maximum)
Removable 512GB SSD
16MP photographs
12.8 stops of dynamic range