Has the Solo launch derailed?
The longest launch?
The Solo launch feels like the longest launch in multicopter history and possibly the bumpiest so far.
In April with the launch of the Solo at NAB, 3DR probably couldn't have hoped for a better start, the Solo piqued interest far beyond any of 3DR's previous multicopters, the Solo felt fresh and exciting. DJI's Phantom 3, whilst offering exceptional value for money, felt like déjà vu, it was the same old Phantom shell just stuffed with technology from the Inspire, to make matters worse the gimbal was just as fragile as previous incarnations.
DJI sounded complacent and arrogant, most notably when interviewed by Jim Bowers (Demunseed), DJI's Randy Jay Braun said of Phantom owners "They should learn how to fly properly, read the manual, try not to hit things and crash into the ground."
KO to The Guinnmeister?
Meanwhile, Colin Guinn's message was the total opposite to DJI's, when interviewed, time and again Guinn pushed the point home "If our system caused the problem, new drone, new gimbal, new GoPro."
Suddenly 3DR finally had gear without a hint of DIY looks, the Solo looked cool, its software features sounded cool and to top it off the Solo offered strengths over DJI, that of the promise of a future proofed platform and customer service that actually cared. To top it all off, the solo was crowned the best drone of NAB 2015, it was a KO to The Guinnmeister, Colin had outdone his old employer DJI, it looked to be game, set and match.
Victory or defeat?
However, as NAB faded into a distant memory, 3DR's plans have almost been derailed by setbacks, with it looking like 3DR could be at risk of snatching defeat from the jaws of victory.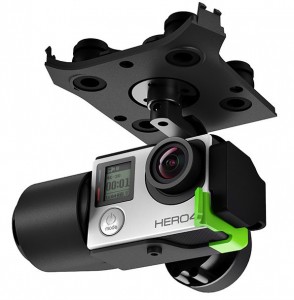 The first set back was the delay of the 3 axis gimbal, whilst the video that has been released from the gimbal has looked impressive, there has been some minor yaw movement seen on earlier videos so it is probably a fair guess to assume that is being ironed out. There was some discontent about the gimbal delay but 3DR made an offer of a free battery for any customer ordering before 15th July which was enough recompense to entice people to pre-order regardless.
There has been frustration at the lack of availability of the Solo, poor communication and the unfairness of pre-order customers being in line behind those going to stores. A number of orders from 3DR were fulfilled in the first week of June, however, many people are still waiting who have ordered from 3DR direct, B&H, DSLR Pros and Best Buy. Despite this a number of Best Buy stores began selling Solos to people this week that just walked into stores. Meanwhile there has been widespread abuse of the Best Buy mover's coupons, the coupons have been used to get $100 off each Solo, with some individuals managing to use multiple coupons buying 5 to 10 Solos and then listing them on eBay.
Whilst the first impressions from new Solo users have been favourable, even without the gimbal, a number of users have had crashes which are believed to be linked to the way poor GPS is being handled by the Arducopter software which runs on the Pixhawk, the Solo is highly dependent upon GPS for its Smart Moves, so won't necessarily cope so well with a poor choice of location such as flying under trees or between buildings. At least one fix is expected in an upcoming firmware patch.
A final headache for 3DR, was the decompiling of its Android APK which allowed the Linux SoloLink companion computer's root password to be leaked. Android seems to be vulnerable to APKs being decompiled and their inner secrets being revealed. It is not the first time this risk has been highlighted, Kevin Finisterre who is currently dissecting the Solo previously took apart the APK for the DJI Inspire and revealed potential vulnerabilities in a project called PixyElks. This should be a reminder to Android owners never to install APKs from the internet and that multicopters on WIFI should as good practice have their default password changed.
We're looking forward to seeing the Solo gimbal released and hope this is just a bumpy start, much as the Inspire had some embarrassing moments in its early history and has proven successful, hopefully the Solo can too.